To me he will just be Dad: Dr. Hatim Hyderally
By Ty Hyderally
My Dad…a true gentleman who handled himself with grace and dignity.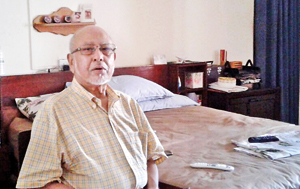 Some moments from my time with Dad: Outside in the front lawn throwing and catching a baseball. Yes… Dad was more than brilliant as an Anesthesiologist… he could also throw a baseball… well, kind of….
My first-time skiing was on a ski trip that Dad organized at his friend's place from Mount Sinai Hospital. It is there that I got my first taste of skiing and instantly fell in love with the sport. I still remember that trip even now at age 52. After that ski trip, I continued skiing and got into racing and became an instructor first in Lake Tahoe at Kirkwood and later in Vermont at Stratton Mountain.
Of course, there were the many moments of trudging upstairs to have Dad check and oftentimes correct my homework. Dad had this knack of turning a blind eye to my protestations of 'Dad, they teach math differently in the US compared to the UK'.
Dad was often quiet. We often remarked that Anaesthesia was the perfect profession for him -a profession that did not require much discourse with your patient. And if they talked too much, I am quite certain they were the recipient of an early dosage…
Dad was often reserved. But there was that time that I was quite the bad boy with my high school friends from Horace Mann and got back home to Englewood Cliffs a bit late and a bit inebriated from a party in New York. The next morning, I felt horrible and knew I was quite in the doghouse with mom and dad. Dad shocked me when he came downstairs to my room, told me to get my clothes on and that we were going out for a bite to eat as mom was quite upset with me. He took me to this diner where he directed me on ordering greasy foods to help with my stomach. We then went for a movie. Even now it touches me to think of that moment when Dad showed me a side of himself that I did not often see.
I remember when I went to Dad's retirement party.
Dad was as consistent as anyone I have ever met. Got up every morning, put on his tie and jacket and went to work. He stayed 45 years at Mount Sinai Hospital. The longest of any doctor they have had. When he retired at age 80, they threw him a retirement party. It was very telling to hear of all of his accomplishments from other doctors who approached me. What is even more telling is that Dad had never shared his accomplishments with me, such as changing the methodology of the administration of Anaesthesia in the US. He was not much for boasting or bragging.
Finally, I will share one last side of Dad. I was in high school, and this student approached me and asked, 'Is your dad Dr. Hyderally?' She said her uncle was putting together a surgical team and interviewing doctors from around the world. Her uncle had met with my dad and was completely taken by him. But here was the shocker… for me at least. She said my dad had her uncle laughing. It was the first time they heard her uncle laughing in ages. Of course, I immediately thought maybe there is another Dr. Hyderally.
But of course, yes… there is always another side. But to me, he will be just Dad. I will miss him.